How multiline solutions work
Many of our customers work in demanding environments. Standards for quality, hygiene and safety are becoming higher all the time. Palletisation as such has nothing to do with production – we view it as a logistics activity. In addition, palletisation requires (usually) wooden pallets as well as all kinds of other consumables such as base or layer cards and labels. Many of our customers would rather not see any of these things anywhere near a hygienic production hall. In a multi-line concept, several production lines are connected to one or more palletisation machines, which are usually not placed in the production hall itself.
The finished production is transferred automatically without mixing products to a buffer area where it accumulates before palletisation. As soon as enough product is ready to fill a complete pallet, the system calls up the product, transports it to the palletiser(s) and completes the palletisation.
This is fully automatic – to meet the needs of the manufacturer and the end user, a large number of parameters can be adjusted accordingly: the type of pallet, the stacking pattern, separator sheets, wrapping or not, etc.
Such an installation can be fully PLC-driven. Another, even better possibility, is a combination with our Maestro+ Software. This software provides an interface with the ERP or other overlying system operated by the customer and the installation. In addition to easier and more dynamic control, this software provides a user-friendly operator interface, better error messaging, and production and maintenance reporting.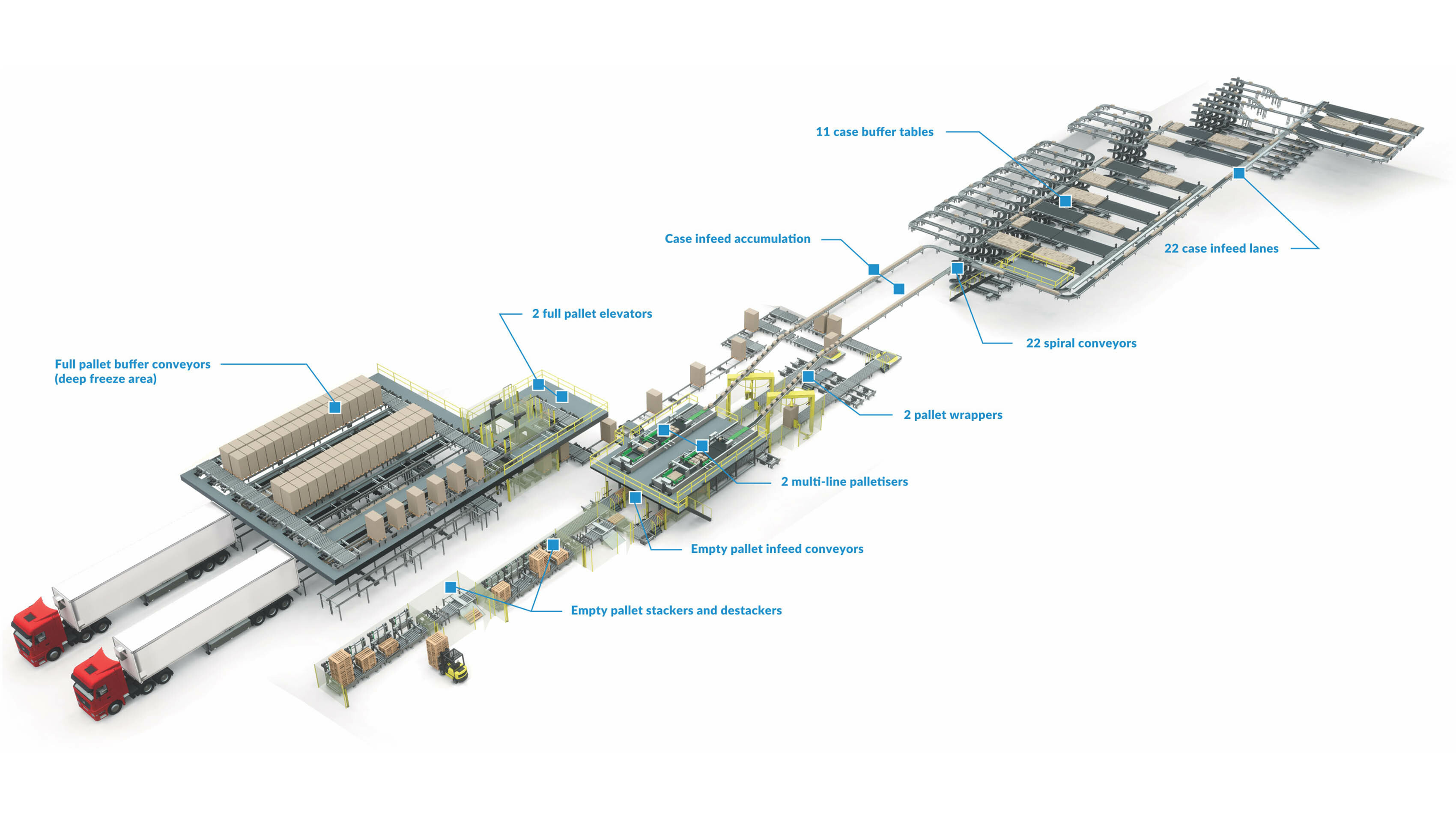 Benefits of a multi-line solution:
Clear separation between production and logistics.
Significantly enhanced line efficiency due to the buffering & accumulation process.
Reduced upstream stoppages.
Ideal for temperature sensitive products.
Buffering and accumulation can operate in chilled or frozen environments.
Utilises "free" headspace.
Fully automatic operation.
Limited number of operators.
None, or very limited, fork-lift truck movement.
Minimal & efficient footprint.
Remote diagnosis and monitoring by the customer and/or Scott.
Flexible solution, permits addition of production lines and palletisation patterns.
Energy efficient operation.
Low cost of ownership.